Panels of switchboards ShchO 90M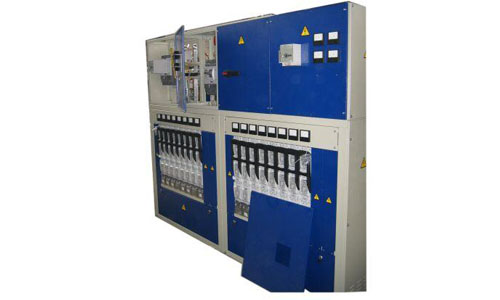 Purpose and scope
The switchboard panels of the ShchO-90M series are intended for the assembly of switchboards for the distribution of electrical energy with a voltage of 0.4 kV of alternating current of 50 Hz frequency with a dead-earthed neutral, used for receiving and distributing electrical energy, protecting against overloads and short-circuit currents.
Boards are made up of panels and installed in electrical rooms. Service shields made from the front side.
At present, due to the increase in electrical loads of consumers, the old switchgears of 0.4 kV in their cramped dimensions cannot accommodate a larger number of outgoing lines feeding consumers.
According to the technical assignment of design institutes and cable networks, the production enterprise Vilkom-Electro LLC developed and introduced a fundamentally new distribution panel of type ЩО 90М with 16 outgoing lines to the "ARC" circuit breaker unit and 14 on automatic switches.
The panels are welded metal structures made of steel profiles, and the elements of the facade and side walls are made of sheet steel. With the back of the two-way maintenance is installed removable panel. Access is provided through a door or a removable panel.
The advantages of the panel are:
•With the minimum dimensions of the 1200 * 600 * 2000 panel, 16 switches or 14 circuit breakers for current up to 630A are installed;
• the location of busbars in different planes, we have achieved additional security for staff and ease of installation of outgoing cables.
3. The panel design makes it easy to dock with any previously released standard panels.
4. The new panel covers an area above the cable channel of 0.72 m2, while the old SchO panels cover an area of 1.68m2.
Brief characteristics of the panel are shown in Table 1.