Package transformer substations of indoor installation with one and two transformers PTSI 250…2500/10(6)/0.4 U3 (У3)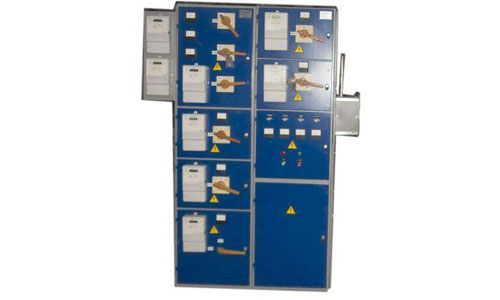 Application and designated area
Package transformer substations of indoor installation (PTSI) of power PTSI (КТПВ) 250, PTSI (КТПВ) 400, PTSI (КТПВ) 630, PTSI (КТПВ) 1000, PTSI (КТПВ) 1600, PTSI (КТПВ) 2500 kVA (hereinafter referred to as PTSI) are intended to receive, transform and distribute current over a three-phase alternating current with frequency 50 Hz.
They are applied in power supply systems of industrial enterprises with moderate climate for indoor installation in premises without central heating.
Additional specifications are provided by Customer's option.
RTS specifications

Structure of reference designation
Х- PTSI -Х/Х/Х-UЗ
X — number of applied transformers (not specified for PTSI with one or two transformer);
2 — in case of two transformers;
P — package;
Т — transformer (T);
S — substation;
I – indoor;
X — power of transformer, kVA;
X —transformer voltage on HV side, kV;
X — rated voltage on LV side, kV;
UЗ — climatic and location category (U3).
Hardware variants
By LVSG (RUNN) interposition:
• single-row;
• two-row with a bus bridge.
Installed automatic breakers of roll-out configuration:
• type VA (ВА);
• type 'Electron' («Электрон»);
• type А37.
LVSG variants:
• with ATS (automatic transfer switch)
• without ATS
Device components
Substation of indoor installation of 2PTSI type contains:
• high-voltage inlet cabinet HVIC1,HVIC2;
• low-voltage inlet cabinet LVIC1, LVIC2;
• low-voltage section cabinet LVSC;
• low-voltage line cabinet LVLC;
• power transformers – 1 or 2 pcs