Kiosk-type package transformer substations of outdoor installation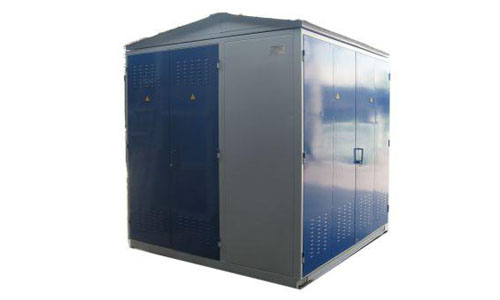 Application and designated area
Package transformer substations of outdoor installation PTS 63….630/10 U1 (hereinafter referred to as PTS KTPN) are intended to receive three-phase alternating current with HV of 6-10 kV and frequency 50 Hz, transform it and distribute over three-phase four-cable network with a grounded neutral at voltage of 0.4 kV (LV).
The substations are applied to power supply urban and agricultural consumers and construction areas.
If you want to order a substation, please fill in the data sheet.
Specifications and type of substations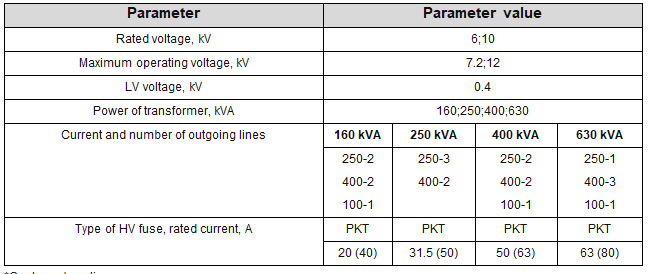 Structure of reference designation
PTS KTPN — ХХХ / 10 (6) / 0.4 — U1, version 1-4;
PTS KTPN is letter designation (package transformer substation of outdoor installation);
T – dead-end; N – double-ended, type of inlet / outlet; A – air; C – cable;
XXX — number which determines power of substation in kVA;
10, (6) — rated voltage on high voltage side (HV-10;6 kV);
0.4 — rated voltage on lower voltage side (LV-0.4 kV);
U1 — climatic and position category complies with GOST 15150-69;
* Hardware version is chosen from the table of specifications, parameters and types of transformers.
Schematic circuit diagram
Schematic circuit diagram is shown in the figures. List of package equipment is specified in the corresponding table for package equipment and reference designations of PTS KTPN. HV cabinet is equipped with a load breaker of VNA (VNR) type with hand actuator or one breaker RVZ (for substations with a transformer of 400 and 630 kVA, only load breaker is installed). Low voltage cabinets are equipped with switches or automatic breakers with available power account.
Equipment and reference designations