Package Switchgear Cabinets of Mine Standard Hardware KRURN6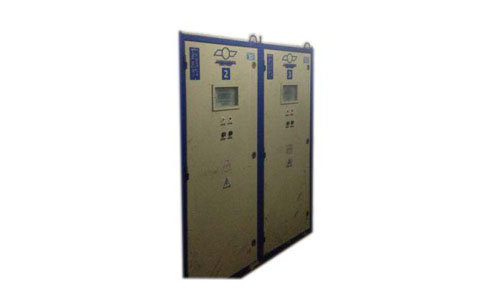 Package switchgear cabinets KRURN-6 are intended for electric energy distribution at voltage 6 kV and frequency 50 Hz for protection of networks with isolated neutral and control of underground trolleys by gas or dust. Cabinets are manufactured according to GOST 24754-81 and TU specifications U 27.1-32236309-008:2013 specified by MAK R&D I.элемент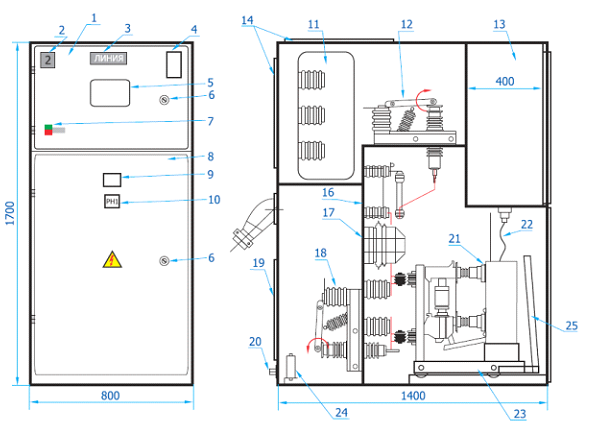 1-outer door of relay cabinet; 2-nameplate with order number and cabinet number in a SG; 3-nameplate of cabinet application; 4- nameplate of main circuit scheme; 5-viewing window; 6-inner door of relay cabinet; 7-button of high voltage breaker control; 8-lower door (high voltage breaker compartment); 9-nameplate of rated parameter values; 10-hardware version nameplate; 11-assembled bus compartment; 12-bus breaker; 13-relay cabinet; 14 –dismountable protecting covers of assembled bus compartment; 15-sealed cable inlet (coupling); 16- voltage transformer; 17-current transformer; 18-line breaker; 19-dismountable protecting cover of line breaker compartment; 20-protecting grounding terminal; 21-vacuum breaker; 22- cables of auxiliary circuits; 23- roll-out element; 24 — surge arrester; 25- folding element.
KRURN 6
cabinets are intended for operative in the following conditions:
• elevation above sea level – not more than 1000 m;
• temperature of environment from -10°С to +35°С;
• environment – iron-ore, coal, slate mines with dust content less than 8 mg/m3, inexplosive dust, current-conducting;
• operating position in space – vertical;
• deviation – 0.17 rad (10°) in any side;
• installation site is protected from direct water drops.
For power circuit commutation, the cabinet is equipped with a breaker in a contactor mode BBTEL-10-5/630 U2 with electromagnetic arc blowout or contactor «Rollarc» or vacuum breaker ВВ TEL or Evolis.
2 SPECIFICATIONS
2.1. Main parameters are specified in table 1.
Table 1.

2.2 Cabinets provide:
1) operative local switching (with help of buttons);
2) operative manual switching;
3) operative remote switching if control copper core cross-section is not less than 2.5 mm2 and length up to 10 km (core resistance up to 80 Ohm);
4) breaking of outgoing connections to perform maintenance and repair,
5) current overload protection with controlled time delay and protection of asynchronous motors with a short-circuited rotor from inadmissibly long starting current;
6) current or directional protection from one-phase grounding with stage regulation of time delay working from one or two zero-sequence current transformers;
7) protection from short circuits;
8) protection of minimum voltage without time delay or with a time delay up to 4 с;
9) protection from automatic switching in case of short-time voltage increase;
10) connection of closing and opening of control equipment and telemechanics contacts and additional protection beyond the cabinets;
11) electrical blocking of voltage supply to outgoing connection with ground leak resistance less than 360 kOhm and short-circuited outgoing connection;
12) blocking of switching from 2 positions (local and remote);
13) blocking of re-close in case of failure of mechanism which holds the switch in off position;
14) single automatic reclose (AR) or automatic protection switch (APS) in case of two- and three-section underground stations;
15) functional check-up of maximum current protection to control setting of 5-9 А and blocking leak relay;
16) protection from loss of control in case of closing or breaking of remote control cores;
17) control of current and voltage value in power circuits;
18) local (mechanical and electrical) and remote (of a remote controller) alarming of breaker position (switched on and off);
19) alarming of blocking leak relay activation;
20) alarming of short-circuit protection activation;
21) alarming of surge arrester activation;
22) alarming of single-phase grounding protection activation;
23) possibility to break minimum voltage protection devices when voltage supply of a switched-on breaker does not lead to its breaking;
24) functional check-up of protection from one-phase grounding short circuit.
Control cabinet equipment allow one to organize automatic search of a network or power plant section, with unselective breaking of maximum current protection, correction of unselective protection operatives in underground radial networks.
3 HARDWARE VERSIONS.
Depending on applied breaker and built-in package equipment, cabinets are manufactured in the following hardware and designation: