Condensing units ACU – 0.4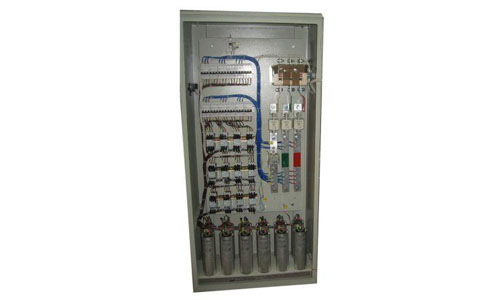 Application and designated area
Automatic condensing units ACU – 0.4 are intended for automatic compensating of reactive power in three-phase alternating current electric circuits with voltage 0.4 kV and frequency 50 Hz with no distortions or with minor distortions of sine nature of current and voltage.
Panels are manufactures in accordance with TU specifications and have certification of the National Committee for Standardization of Russia РОСС UA.A.27838
ACU condensing units, depending on their power are manufactured in a hanging or standing hardware configuration and are intended for installation in switchgear rooms.
Rated power: from 12.5 to 540 kVAr.
Rated alternating current voltage: 380 V.
Frequency: 50 Hz.
Degree of protection according to GOST 14254-96: IP31.
Climatic category according to GOST 15150-69: U3.
Level above sea of the plant: not more than 1000m. Operating position – vertical. Allowed deflection from working position is not more than 5°.
Safety requirements comply with GOST 12.2.007.0-75 and GOST 22789-94 as well as Electrical Installation Code, Regulations for Operation of Customers' Electrical Installations by the Ministry of Energy of RF.
Fire safety requirements comply with GOST 12.1.004-85.
ACU condensing units allow long-term operation when operating pressure rises to 1.1 of rated current and operating current rises to 1.3 of rated current at rated voltage and frequency both due to voltage rises and higher harmonics.
ACU -0.4 kV condensing units may operate in a manual or automatic mode. A control provides automatic switching on (off) of condensers with a specified time delay when reactive power changes. The control is based on a current cos value and may have up to 12 stages
Structure of symbol designation
ACU ХХ – ХХХ / ХХ U3
1        2      3       4   5
Condensing unit with automatic control.
Rated voltage of the unit (kV).
Rated power of the unit.
Rate power of a control stage on kVAr.
Climatic category according to GOST 15150-69.
Specifications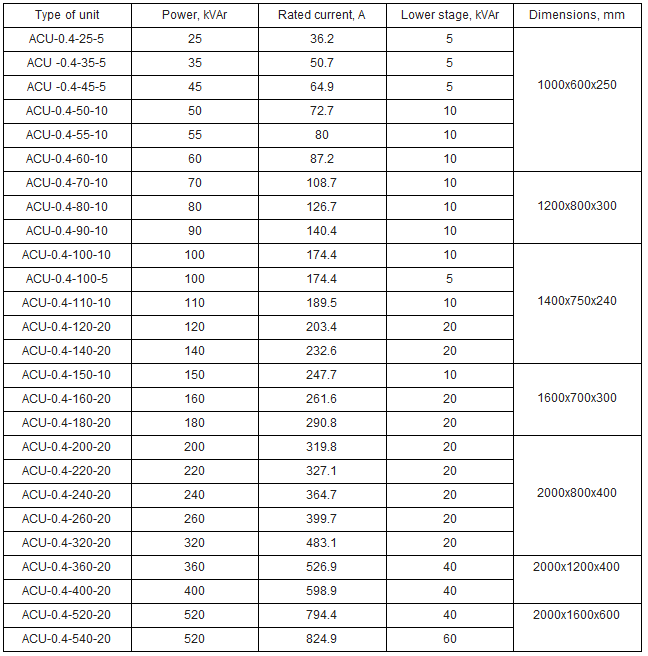 Manufacturing of ACU condensing units of another power or another stage power is possible by agreement with the Customer, number of control stage is limited to 12.

Table for determination of condensing unit reactive power – ACU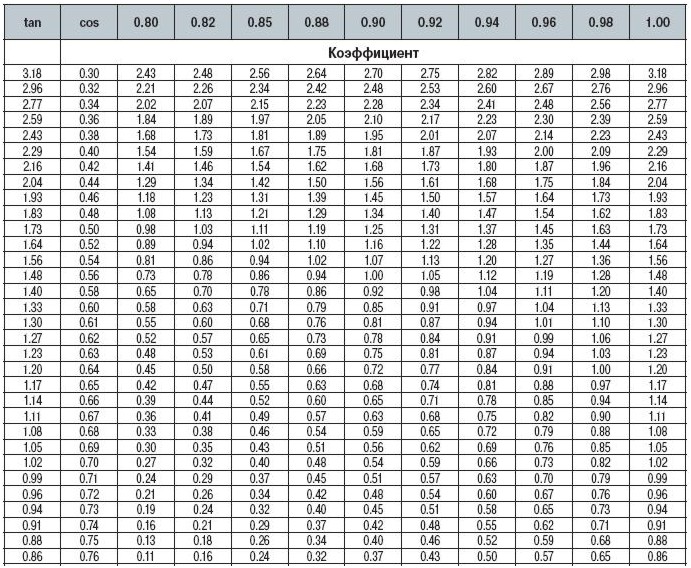 Reactive power of a condensing unit (ACU)
ACU (kVAr) = Active power [kW] х factor K (see the table above)
Example:
Engine active power: Р = 100 kW
Acting cos( ) = 0.61
Required cos( ) = 0.96
Factor K from table 1.01
Required ACU reactive power (kVAr) = 100 х 1.01=101 kVAr